¿Cómo ayudar a los damnificados por el tifón Yolanda (también conocido como Haiyan), que se prevé que ha dejado al menos 10.000 muertos en Filipinas? Si has leído las noticias, quizás quieras colaborar con las ONG que llevan años sobre el terreno o preparan el envío de ayuda humanitaria.
«Filipinas es un país que tiene mucha capacidad de respuesta, pero en una situación de este tipo se desborda cualquier capacidad. Me parecería muy egoísta decir que no ayudásemos a la gente del Katrina, en EEUU, o a los de Lorca en España», ha dicho en la Cadena Ser Roger Alonso, jefe de la delegación de Cruz Roja en Filipinas.
Si te encuentras en Filipinas y necesitas asistencia, puedes llamar al 09 17 826 60 46, una línea puesta en funcionamiento por el Ministerio de Exteriores. Los familiares han de marcar el (+34) 91 394 89 00.
Pero si lo que sientes es el impulso solidario, aquí están algunas de las organizaciones que trabajan en el envío de ayuda humanitaria. Si conoces alguna otra y quieres que la añadamos, puedes sugerirla en los comentarios:
ACCIÓN CONTRA EL HAMBRE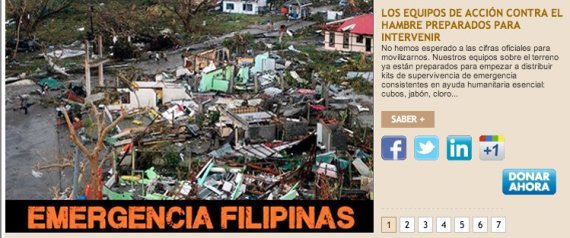 La organización dice llevar desde el 2000 sobre el terreno y «no ha esperado a las cifras oficiales para movilizarse», según su web. Sus equipos «están preparados para empezar a distribuir kits de supervivencia de emergencia consistentes en ayuda humanitaria esencial: cubos, jabón, cloro…»
Acción contra el Hambre tiene tres cuentas a disposición de los que quieran ayudar y un teléfono.
TELÉFONO: 900 100 822 | Santander 0049/0001/52/2410030007 | Bankia 2038/1052/44/6000741510 | La Caixa 2100/2999/93/0200030018
CRUZ ROJA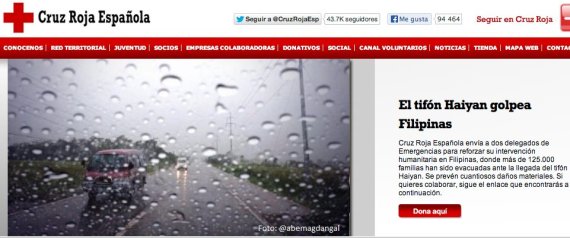 "Se prevén necesidades urgentes de alojamiento temporal, artículos de primera necesidad, acceso al agua potable, saneamiento y recuperación de medios de vida",según indica en la web de Cruz Roja María Alcázar, directora de Cooperación Internacional de Cruz Roja Española.
La organización cuenta «con dos delegados en el país, enviará en las próximas horas otros dos delegados expertos en emergencias».
TELÉFONO: 900 903 129 | donativos@cruzroja.es | SMS: AYUDA al 28092 (1,2€ IVA incluido) Web
MÉDICOS SIN FRONTERAS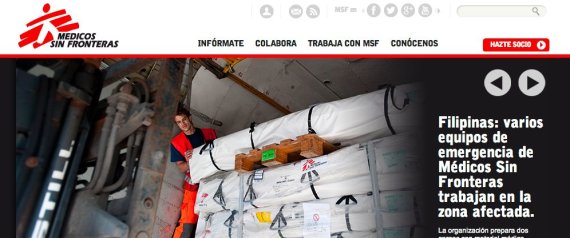 MSF reforzará su equipo en el terreno con 30 personas entre las que se encuentran personal médico, psicólogos y especialistas en logística, según informa la organización. El primer avión de carga con destino a las zonas afectadas saldrá este mismo lunes y la ONG tiene previsto enviar otro el martes.
"Ahora mismo estamos trabajando en un vacío informativo. Sabemos por lo poco que vemos que la situación es terrible. Pero lo que no vemos es lo más preocupante. La información que recibimos de Tacloban es que la ciudad entera, de 400.000 personas, ha sido devastada. Pero hay cientos de poblados esparcidos a lo largo de miles de kilómetros por los que ha pasado el tifón», asegura Natasha Reyes, coordinadora de MSF en Filipinas.
Por ese motivo, desde la organización insisten en que la prioridad es «atender las necesidades médicas urgentes e inmediatas», para lo que piden la colaboración ciudadana a través de su web o sus canales de ayuda habituales.
TELÉFONO: 902 250 902 | CAIXA BANK: 2100-3063-99-2200110010 | BBVA 0182-6035-49-0000748708 | SANTANDER 0049-1806-95-2811869099
INTERMÓN OXFAM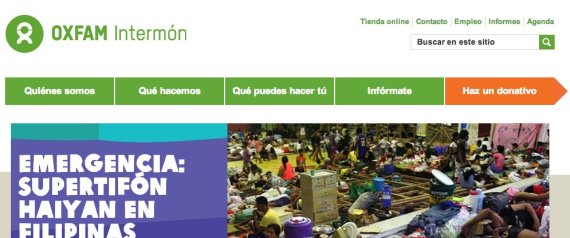 «Oxfam ha enviado un equipo de expertos sobre el terreno para evaluar las condiciones del agua, la salud pública y el saneamiento en Bohol», según indica la organización en su web. Otro equipo irá a Cebú del Norte, Samar del Norte y del Este y Leyte.
«Hacer que la gente tenga agua potable, saneamiento adecuado y un techo es nuestra prioridad inmediata. Estos desastres agravan la situación de las personas más pobres de Filipinas», en palabras de Marie-Madamba Nuñez, de Oxfam en Filipinas.
TELÉFONO: 902 330 331 | Transferencia bancaria o mapa de tiendas
CÁRITAS
La organización ha puesto en marcha la campaña de solidaridad 'Cáritas con Filipinas', con objeto de canalizar el compromiso de los donantes españoles con los damnificados del tifón.
El director regional de la Cáritas Estadounidense, Greg Auberry, presente en el país en el momento de la tormenta, ha informado desde el terreno que «el dolor causado por este nuevo desastre es devastador». «Ahora mismo estamos enviando lonas a la ciudad de Cebú para poder proveer refugio temporal urgente a unas 8.000 familias», ha explicado.
TELÉFONO: 902339999
SAVE THE CHILDREN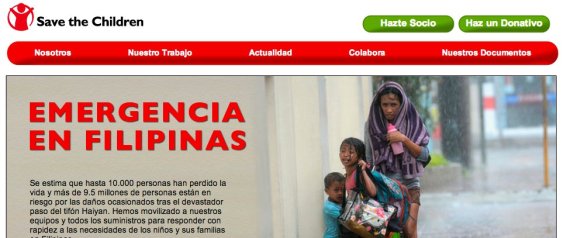 "Estamos muy preocupados por la situación de los niños y las niñas más pobres y más vulnerables en algunas de las zonas más gravemente afectadas. En lugares Tacloban el daño es catastrófico, especialmente para las familias cuyas casas estaban construidas con materiales muy poco resistentes", ha declarado Anna Lindenfors, Directora de Save the Children en Filipinas, según indica la web de la organización.
A través de su página se puede colaborar con la organización, presente en el país desde 1981.
Gracias a todos/as por colaborar